Over the past year of so of using Max4Live i've developed many modular devices alongside my main master template thats configured for the Akai APC40, now i've got a launchpad at my disposal i'm revisting old devices and rewriting them based on what i've learnt with each project...
Even so i'm in constant contact with people who have great ideas for devices but don't know how to implement them. Now i'm not a Max expert, i just like a challenge, so i'm willing to put the effort in for a decent project.
Dee Kuul - Control Master
Dave had specific ideas of how he wanted to use his APC40 as a more traditional dj mixer yet with 8 tracks, as such he wanted the functionality of the Track Control Knobs to be repeated with the Device Control knobs giving effectively 4 banks of controls...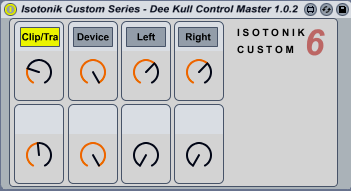 When switching between each bank it quickly grabs the current value of the control it's newly focused on and updates the lights on the APC40, using racks Dave can change the effects focused on by simply changing the macro mapping within the rack....
My first joint venture in this arena was brought about as an artist came to me with a very specific set of feature requests, he didn't want multiple pages of functionality just a solid set up for his stage performance, and so without having to worry about how to make the device configurable for many different controllers and different set ups i set to work.
I'm now at the sixth revision and what has really helped has been the clear vision of what's wanted, eschewing some of my more fancy ideas that would complicate the set up!
In a nutshell, this first Custom device triggers clips to record a set length dictated by the lit buttons on the Launch pad....
Whilst stopped or recording the track is set to mute, once playing the track becomes active so really just like a looper that's properly quantised to Live's transport.....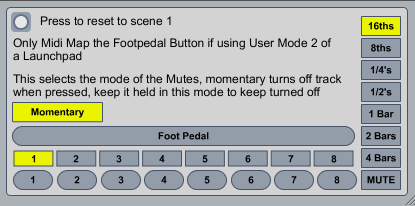 The right hand arrow buttons set the length whilst the bottom row of pads trigger the start of recording.....
You can set it up to trigger tracks on any of up to 8 tracks...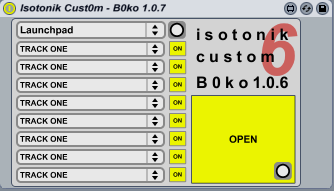 And whilst configured to use the User 2 mode of the Launchpad, whereby you'l get visual feedback of the length of clip recording and playing, it can be set up with just 16 midi buttons, or using the Footpedal control you'd need three buttons to set the loops and as many as you want to set the lengths, from 16ths up to 4 bars....
It's early days for this device but it can be an alternative to Abletons Looper device which i've yet to use successfully because my natural timing is a bit shaky!
If you've got a well thought out requirement for a device then please get in contact via darrenecowley at sky dot com, and before you ask no i can't make a device that shows two waveforms or produce instant trance music!!
Cheers
D